Being discovered in 1999 by Dan Bock, a former Pro Tour player, the Alternate Fourth Edition is a parallel print run of the standard Fourth Edition set. The cards had been printed in early 1995 by the United States Playing Card Corporation in Cincinnati in a first attempt to produce Magic cards on US soil. Aside from Magic, the company also printed two sets of the Wizards of the Coast card game Vampire: The Eternal Struggle, namely the Unlimited Edition, released in October 1995 and the first expansion, Dark Souvereigns, released in November 1995. Unlike the Vampire cards, the printed Fourth Edition cards were never officially published, allegedly because both companies had a dispute with each other. They discontinued their business relationship after a settlement was made at the American Arbitrary Society in 1996. The cards were scheduled for destruction, yet an unknown number was saved and somehow leaked into the public.
The cards look very similar to standard Magic cards, but reveal some differences on closer inspection. Their card stock is thicker, their backside features a glossy finish, their color are a little darker, and their printing style does not show the characteristic pattern of dots, but is completely undiscernible. Furthermore, they have been applied a special coating which prevents their colors to pale in sunlight. This coating also causes the cards to stay dark under ultraviolet light, also called black light, in contrast to standard Magic cards which start to glow. The best method to distinguish them from standard Magic cards is to take a close look at the "Magic" logo on their backsides. While standard cards have some light blue areas, especially at the topright part of the letter "A", these cards feature a completely dark blue logo.
For unknown reasons, Alternate Fourth Edition cards seem to have been leaked into the public exclusively in starter decks. These starter decks feature the same product code as regular starter decks and share the same contents but can be recognized by their legal text which mentions the United States Playing Card Corporation instead of Carta Mundi. The starter deck boxes, however, do feature a slightly different product code. Their ISBN is 1-880992-26-4 instead of 1-880992-25-6.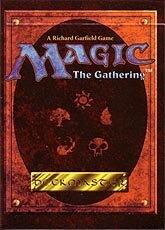 Alternate Fourth Edition starter
Commercial Links
Buy Alternate Fourth Edition Cards from Cardhaus