The DCI, the Duelists' Convocation International, is an organization which administers the whole tournament structure of Wizards of the Coast games. Founded in September 1993, the DCI, at that time named Duelists' Convocation, offered two different membership levels: The free Mana membership and the $30 US Legend membership. While the Mana membership was sufficient to participate in DCI sanctioned tournaments, the Legend membership provided some additional items:
1 alternate art Counterspell
1 alternate art Incinerate
1 special membership card
1 DCI Legend membership poker deck
1 Italian Legends booster pack
1 six-issue subscription to The Duelist Sideboard magazine
1 commemorative 1997 World Championships prepaid phone card (for participation before the 1st of September 1997)
The Legend membership was discontinued on February the 28th in 2001.

Italian Legends booster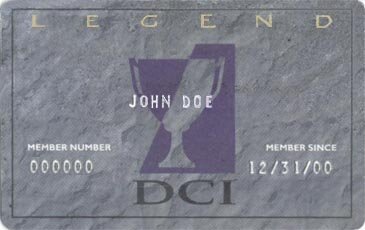 DCI Legend Membership Card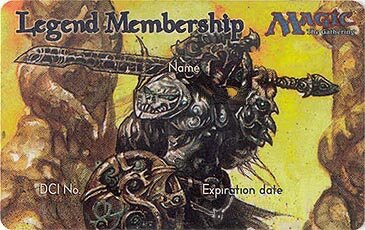 DCI Legend Membership Card
Commercial Links
Buy DCI Legend Membership Promos from Alpha, Beta, Unlimited
Buy DCI Legend Membership Promos from Cardhaus
Buy DCI Legend Membership Promos from Cardshark
Buy DCI Legend Membershio Promos from CoolStuffInc
Buy DCI Legend Membership Promos from Magic Arsenal