The Beijing JingHe Age Software and Technology Corporation, in Chinese called Jing He Shi Dai company, was the official distributor for Magic products in mainland China. Similar to Hobby Japan, the company had been granted limited rights by Wizards of the Coast to produce Magic items on their own. During their partnership with Wizards of the Coast, they have released two sets of token cards for promotional issues. While the 2002 series emphasizes Chinese artwork, the 2003 series is aimed to please the aesthetical desire of an international Magic audience.
The token series released in 2003 has been distributed in a booster pack, containing 4 random cards out of a pool of 7. Two of the cards, the Angel Token and the Dragon Token, are confirmed to be rarer than the others. The booster packs were given to purchasers of four packs of either Simplified Chinese Legions or Scourge booster packs. Remaining packs were sold.
The distributorship of Magic in mainland China was moved to the OTC company in February 2004.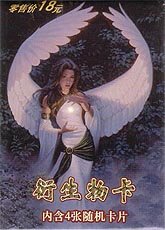 JingHe Age token card booster
| | |
| --- | --- |
| Internal Links | External Links |
| | JingHe Age |