Inspired by the Crazy Clowns tokens, designer Jean-Sébastien "Jess" Grinneiser decided to create his own premium series of token cards for Magic in March 2004. Soon after, six different token cards with a print run of 150 sets depicting Manga style artwork were released one after the other, all featuring heavy cardstock and high-quality lamination on front and back. Due to public demand, a second edition of these token cards was released with a print run of 54 sets, this time featuring a black border to simplify the cutting process.
In summer 2004, Jess was approached by Alexis "dragsamou" Ambrunn who suggested to create a special series of token cards in honor of the Magic Library website. After some debate, it was decided to reprint the first series of token cards yet another time but this time with an altered backside. 250 sets were printed, and all the cards received a unique card number. The sets were sold, initially only to members of the Magic Library forum, in codified packages, together with a separate front sheet which resembled a modified image of the backside of the cards. In addition, 18 blank cards with sketches from Jess were added randomly to the packages.
About half a year after the initial release, a second series of token cards had seen print, again with a print run of 54 sets. While the layout was left unchanged, this time, the artwork was centered around a more sinister theme. The particular token types had been selected in accordance to many requests voiced by collectors.
A third series with a print run of 54 sets appeared half a year later named Laquer Red. This time, the whole art style changed slightly, and softer colors moved the overall presentation away from the classic comic style of the preceding series.
Three tokens so far, the Avatar token, the Dragon token, and the Illusion token, have also been printed in a limited edition featuring a slightly modified design and were handed out at specific events.
All token cards except those from the special series are sold as single items on the Neo-Token website. Purchasers of complete sets receive a discount.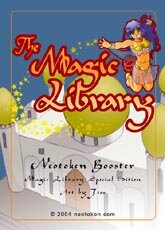 Neo-Token special series booster pack sheet
| | |
| --- | --- |
| Internal Links | External Links |
| | Neo-Token |