The Magic Player Rewards program was created initiated on the 21th of May 2001 to make DCI sanctioned tournaments more attractive. The program is open to everyone. Once registered, each participant receives a membership card, and every attendance on a DCI sanctioned tournament is recorded. For every 20 attended tournaments, participants are awarded a special promotional foil card. For every 5 recorded tournaments, they are rewarded with two Magic Player Rewards token cards. Thrice a year, each player profile is checked, and the appropriate number of prize cards is sent by mail. The cards are chosen randomly from a continually shifting card pool, as new cards are introduced and the stock of old cards becomes depleted.
Due to a shortage of foil Wastelands in the latter half of 2002, foil Crusade promo cards from the Junior Super Series prize schedule were given out as a replacement.
Starting in September 2004, textless alternate art promotional reprints of popular cards have been introduced to the prize schedule. These cards are distributed in the same manner as the token cards, resulting in a reward of a random combination of two textless and/or token cards total per 5 recorded tournaments. Despite their textlessness, they can be used in tournaments.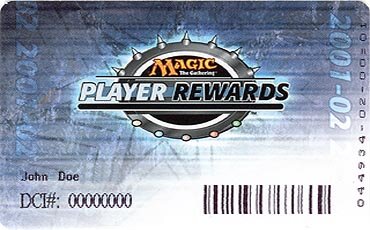 Magic Player Rewards program membership card 2001-2002 season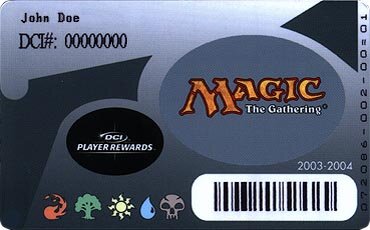 Magic Player Rewards program membership card 2003-2004 season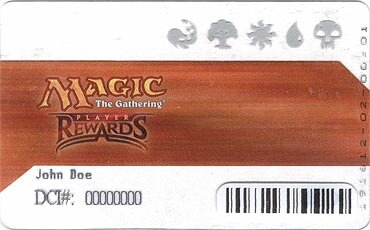 Magic Player Rewards program membership card 2005-2006 season
| | |
| --- | --- |
| Internal Links | External Links |
| Magic Player Rewards Token Cards | Magic Player Rewards Program |
| | Magic Arcana (Player Rewards Voidmage Prodigy) |
| | Magic Arcana (New Promo Terror) |
Commercial Links
Buy Magic Player Rewards Promos from Alpha, Beta, Unlimited
Buy Magic Player Rewards Promos from Cardhaus
Buy Magic Player Rewards Promos from Cardshark
Buy Magic Player Rewards Promos from CoolStuffInc
Buy Magic Player Rewards Promos from Magic Arsenal