Unhinged is the second in a series of wacky Magic sets focusing around parodies and inside jokes in and around the world of Magic: The Gathering. Six years after the release of its predecessor Unglued, Unhinged is a second attempt to probe the public demand of tournament-illegal, nonserious Magic cards on the market. After the initially poor sales of Unglued, the originally planned and halfway developed sequel set called Unglued 2 was cancelled. Many cards and design ideas from this set and already comissioned artwork were inserted into regular expert level sets. Over the years, however, Unglued gained reputation and the public request for another Unglued-like set became louder, until Wizards of the Coast finally decided to give it another try.
The set consists of 141 different cards. Like Unglued, all the cards are silver-bordered except the five black-bordered basic lands which are highly desired because of their nonstandard layout. Some of the foil versions of these cards instrumentalize the foil layer itself for additional visual effects. The set is only available in English due to the difficulty to translate all the funny connotations
One card, called Super Secret Tech, only exists as a foil rare card and technically affects the foil card concept as a whole. Its rarity is supposedly ten times more common than that of other Unhinged foil rare cards.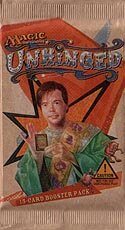 Unhinged booster
Commercial Links
Buy Unhinged Ultra-Rare Cards from Alpha, Beta, Unlimited
Buy Unhinged booster packs from Alpha, Beta, Unlimited
Buy Unhinged Ultra-Rare Cards from Cardhaus
Buy Unhinged Ultra-Rare Cards from Cardshark
Buy Unhinged Ultra-Rare Cards from Magic Arsenal
Buy Unhinged booster packs from Magic Arsenal