Starter is the last starter level product which was distributed in boosters and was released in July 1999. It consists of 173 cards of which 8 are only available in the Starter 2 Player Starter Set. Starter exists exclusively in English. Unlike the Portal series, Starter is a reprint set with cards originating from Portal, Portal Second Age as well as some functionally simple cards from the core set and expert level sets. Additionally it contained 26 new cards, some of which have been reprinted in the meanwhile.
Starter Demogame boosters were given away as a free product to advertise Magic: The Gathering. Aside from the tip and rebate cards, they contain 24 standard Starter cards.
Starter Demogame boosters were also offered in the Guru program.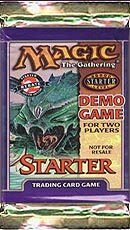 Starter
Demogame booster